Whips, fire, chains… name it all. This is the life that circus animals are reared through. Stripped of all dignity as living beings they are threatened with fire, they are chained for hours on end and they are caned and whipped by the trainers at the circuses. Today I shall focus on the wild animals commonly seen at the circus.
Tigers
If you have had a chance to read this or watch this on the nature channel, then you are probably aware that the greatest fear for tigers is fire! Now the picture portrays a tiger jumping through hoops of fire. Can you guess how many years of torture, starvation, whipping, caging, chaining and caning it took to achieve this?
These tigers are sold to the circus through the black market when they are cubs. They pass through years and years of torture, and even this cat soon comes to learn that when I don't do what the trainer wants I will be starved for days on end or I will be wiped. The tiger has no choice but to adjust to the new lifestyle and hence we end up with a tiger jumping through hoops of fire.
2. Lions
Just like their stripped cousins lions pass through similar treatment at the hands of trainers. They are denied food, caned, wiped and even dragged by chains around their necks. They are constantly locked up in tiny cages and let out only during training. It is sad that circuses get away with this because government agencies neither monitor training sessions nor the animals' living conditions.
3. Elephants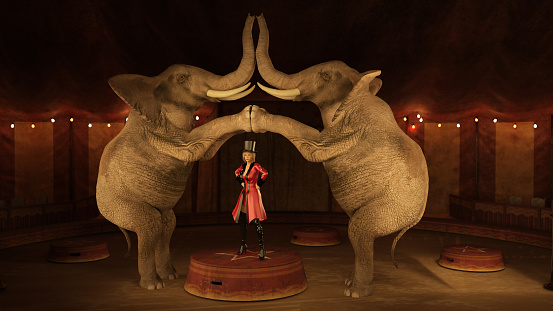 Elephants are probably the most common circus animals. They are separated from their mothers as calves and they spend 23 hours per day chained to the wall. When they make a 'mistake' or refuse to comply with the demands of their trainers bull hooks, electric shocks and whips are usually the punishment for this. Below we see a bull hook being used on a baby elephant.
4. Monkeys
Chained, shocked, starved and whipped. This is the daily routine of a circus monkey. On top of the abuse these animals have to endure extreme weather conditions for extended periods of time. The next time you see a monkey dancing or riding a bike ask yourself why?
So what happens to these animals when they get too old to be in the circus? These animals face uncertain futures as they get older. Most of these animals are sold to hunting ranges, others are sent to unregulated roadside zoos and the rest well they get put to death. The only way to stop this usage and abuse of these animals at the circus is to not go to circuses that use animals for entertainment. The next time you are in Thailand or Nepal do not ride on an elephant!
The question should not be what happens to animals when the circuses are closed it should be 'what will happen to animals if circuses are not closed?'